This is another of those recipes that is not really a recipe, but a method. I am notorious for baking/cooking with no measuring, and this is no exception. but trust me, you will want to try these out asap!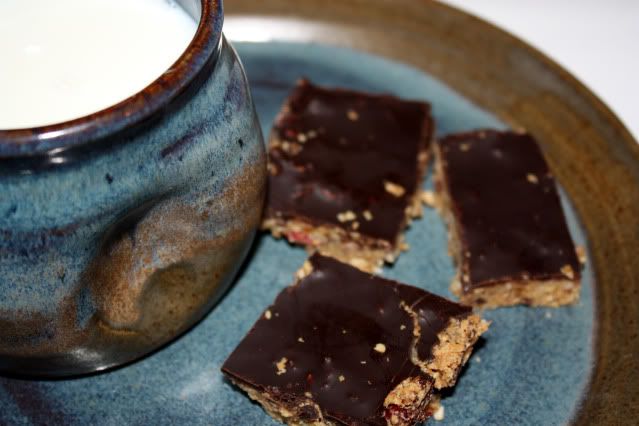 Into your food processor, toss some rolled oats, puffed rice cereal (the kind without sugar, not rice crispies, wheat germ, milled flax seed ... and whatever nuts, seeds, dried fruits you like. In the bars pictured, I used peanuts, dried cranberries, raisins, dried apricots, walnuts and almonds. I just toss in a handful of each. Add some honey and peanut butter and give it a whirl. You want the mixture to stick together without being too dry/crumbly, but you don't want it to be wet either. If it is to dry, add more honey and/or peanut butter until it sticks together. Spread into a greased baking dish. Melt your favorite chocolate and pour it over the top, tilting the dish to cover evenly. Set in the refrigerator (or freezer, if you are like me, and you can't wait to eat them), then cut into bars.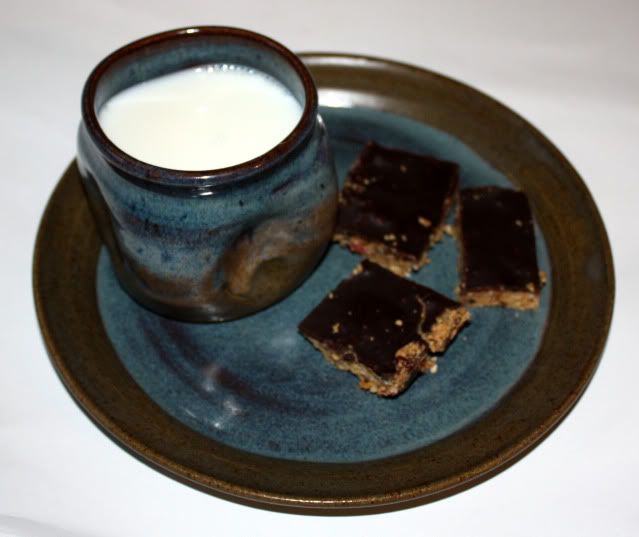 The best part of this recipe is that it can be easily adapted to anything you like! Holden always makes his own bars when I make a batch. The bars he made this weekend had peanuts, almonds, walnuts, apricots and rainbow sprinkles!