I love soap. Correction: I love cold processed artisan soap. At any given time, I have at least 2 dozen bars from various artisans in a rubbermaid box in the cabinet. I collect it. I get all giddy when the bar of soap in the shower is just about gone and I get to go into the box and choose another bar. (Yes, I realize I am a geek, and I am ok with that)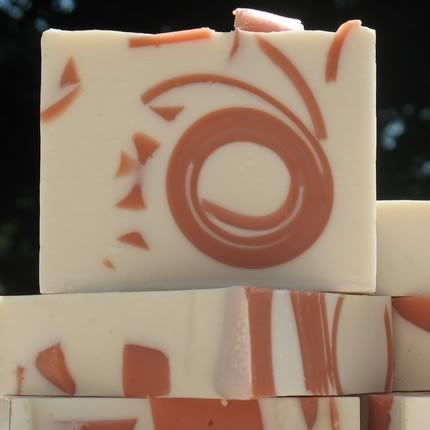 Karen at Relic Soap Co announced a sale last week and I knew I had to try her soap. While collecting the items for the International Women's Day giveaway we had over at the Team Hyena blog, my entire closet smelled amazing due to the soap package Karen had sent in for the giveaway. Every time I opened the closet door I got a whiff of her soap, so as soon as I heard about her special, I was all over it.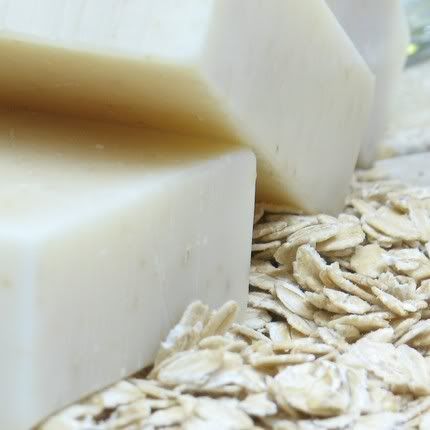 I started out going for the first special, order $20/soaps and get a free sustainable cedar soap dish - I have two gorgeous soap dishes from Rising Sun Earthworks, but I am afraid to put one in the shower because the soap is kept up high on the window ledge (above my head) and I am too paranoid that the soap dish would get knocked down and broken pottery is a big no-no! - so I figured this would be perfect to keep in the shower. So that was the plan, $20 in soap and a free cedar soap dish. Well, that didn't last long. I started reading the descriptions and scents and could not get by with jut 420 worth of soaps, so I went up to the next special, free shipping on orders of $40 or more (and we won't say how much more than $40 I spent ...)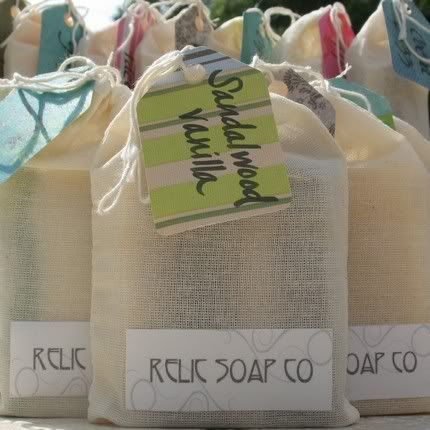 When the box came Monday, the mail carrier told me that his whole truck "smelled pretty" now and he couldn't figure out what it was. I told him it was soap - he thought it was potpourri. The scents are incredible! Opening the box, I was struck by the packaging (above) - don't they look perfect? I love the little bags - it's like opening a little present every time I pull out a new soap! Karen had mentioned she was out of the bags and did I want to wait for them to come in or have her ship without them ... I said it didn't matter, whatever was easier for her. She waited because she said they look better and store better in the muslin bags. It was definitely worth an extra day or two of a wait!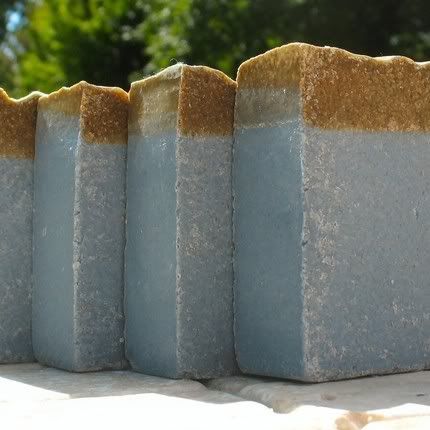 I really love these soaps. The bars are huge. The scents are fantastic - not overpowering, but strong enough that they can be smelled and leave my skin smelling great. sometimes cold processed soaps can be hit or miss in the hardness area - a lot of times I will put a soap in the shower and it will be really soft and will disappear after a couple days use, but not these. The bars are nice and hard, they lather fabulously. No crumbling or melting away here! I will definitely be back for more (if the bars I just got every get used up! Maybe the no-melting away thing *isn't* so good ...). The above bar is my favorite so far - froth sea salt: lather-rich, just a little scrubby from the sea salt, smells great. I'm sold!

Want to try Karen's soap too? One of the items I bought was a buy one get one free pumpkin spice soap - so one is up for grabs to one lucky reader! To enter the free drawing, visit Relic Soap Co and post a comment here telling me which soap is your favorite. Additional entries for following my blog, fanning Holden's Landing on facebook, fanning Relic Soap Co on facebook, and/or blogging/tweeting/posting to your facebook page about the giveaway! just leave a separate comment here for each additional entry. Make sure there is a way for me to get in touch with you if you win. Winner will be chosen Thursday, April 1st (no fooling!!)

*Contest is now closed! Congratulations to our winner, comment #3 - Sami!