Cheese straws are, in a word, awesome! I found the recipe on one of my favorite food blogs,
Smitten Kitchen
, last summer. It started out as an experiment with Kenna - we modified the recipe to omit the pepper and added garlic and garlic salt. They have quickly become a favorite of our family and we take them to every party/function we go to.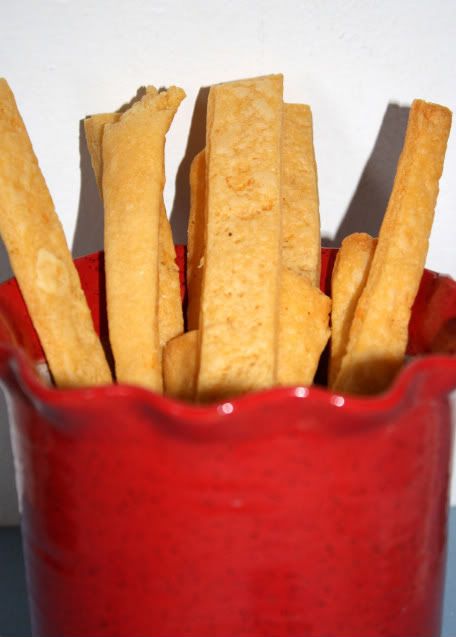 Cheese Straws
Adapted from Smitten Kitchen, adapted from The Lee Bros. Southern Cookbook

12 ounces grated extra-sharp Cheddar cheese
1 stick butter, softened and cut into pieces
1 1/2 cup flour, plus more for dusting
1-2 tablespoons garlic powder (depending on your taste)
1-2 tablespoons garlic salt (depending on your taste)
2 tablespoons milk

1. Preheat oven to 350°F.
2. Place all ingredients in your food processor and turn it on high, letting it mix together until a soft ball forms.
*Note - if you are using block cheese like I do, cut the block into a few pieces and whirl those in the food processor first to chop up. no need to shred it first!
3. Roll out the dough on a floured surface. use a pizza cutter or sharp knife to cut into strips. Transfer onto a greased cookie sheet.
4. Bake about 10-15 minutes (depending on length/size of your straws), until the ends start to brown/crisp a bit
5. The original recipe says to cool and serve t room temperature - they never last that long. Everyone in our family burns their mouths on these as soon as they come out of the oven!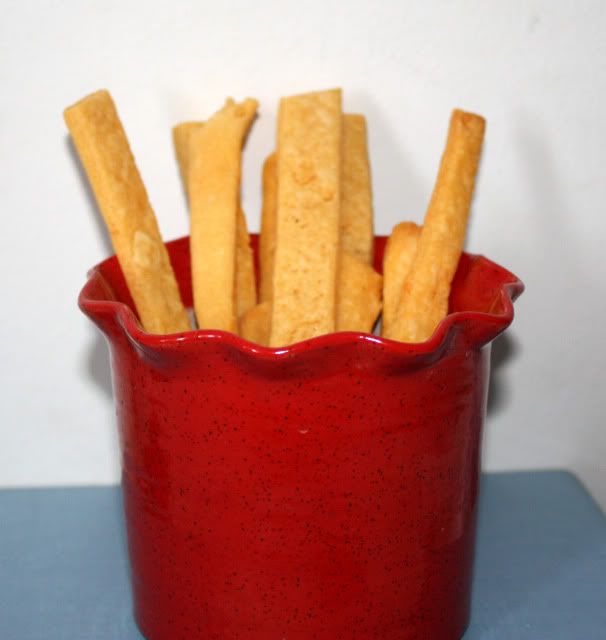 When we made the cheese straws on Friday, Holden was quite excited to "invent a NEW cheese straw" ... he rolled up the dough into balls and flattened them out, creating crackers. You can also cut squares/rectangles for crackers. Any way you cut it, these are great. (I may or may not eat the raw dough as well, it is so good!)