It is a well known fact that I love to cook, and that everything has to be from scratch. I get teased in my family because "Bonnie churns her own butter" (it's easy! And way better than store bought butter!). But a good macaroni and cheese from scratch has eluded me for years. I have tried recipe after recipe and nothing has ever turned out the way I wanted. Last night, we had made a lasagna and I had a ton of cooked lasagna noodles left over that I had to do something with ... so I decided to just wing a broken macaroni and cheese recipe. It came out better than anything I could have imagined! This is by no means low fat - but it is GOOD!!
Ultimate Macaroni and Cheese

Heat a skillet on a medium burner. Toss in the following:
* half a stick of butter (4T)
* half block of cream cheese (4 ounces)
* 10 - 12 ounces cheese, cubed - I just used what I had in the fridge - approximately 3 ounces sheep's milk cheese, 4 ounces sharp provolone, 4 ounces sharp cheddar
* about 3/4 cup of milk (I don't measure, which makes writing out recipes a tad difficult!)
Cook until almost melted, stirring frequently. Add pepper to taste, and 1T ground mustard; mix thoroughly. Stir in your favorite cooked pasta (I broke up the lasagna noodles) and simmer, stirring frequently, until warm.

Serve with a really good loaf of bread. Next week, I will post my new favorite - tweaked - deli rye bread recipe!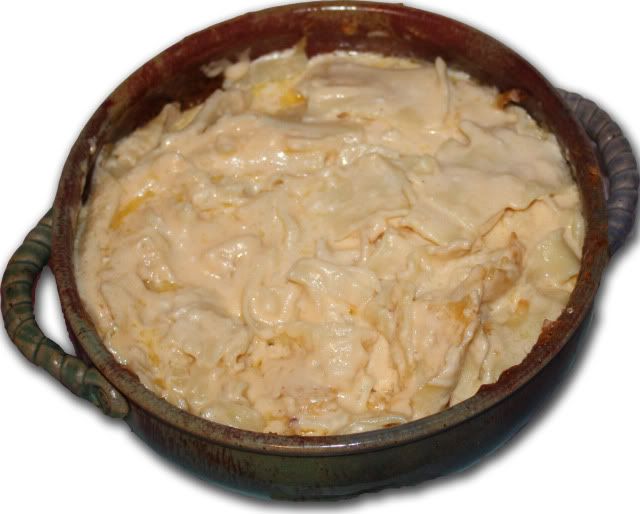 Look at all that cheese!