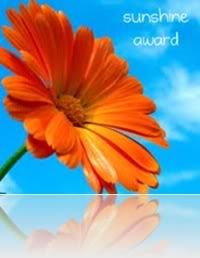 It's a sunshiney day - I have been given the Sunshine Award by Julie of Creations with Heart!

I am passing the Sunshine Award, on this dark and cloudy, pre-snow stormy day, to some of my favorite blogger-artisans ... you will want to check them all out!

♥ Katherine, from Love Abounds
♥ Tiffany from Fair Trade Family
♥ Ashley from Amour Tricote`
♥ lili from lili lutu
♥ Kathi from Chaco Creations
♥ Anna from Lilia Designs
♥ Robin from Joyful Earth
♥ Charlene from Bellies, Babies n' More
♥ Shannon from Gillyweeds
♥ Karen from Relic Soap Co
♥ Karen from Little Gems
♥ Shanna from She Devil Creations
Please pass this award on to your favorite bloggers! Here are the Rules:
1. Put the logo on your blog or within your post
2. Pass the award on to 12 bloggers
3. Link the nominees within your post
4. Let the nominees know they have received this award by commenting on their blog
5. Share the love and link to the person from whom you received this award

Thanks again Creations with Heart - we can use a little sunshine in CT today!