Katherine over at
Love Abounds
sent me a
fragrant coconut rice kit
to test for her recently. When Holden saw it, his reaction wasn't quite what I had expected – he yelled "Oh my god!! I can't wait to try that!!" Holden generally likes the same old, same old – new recipes aren't always met with as much gusto as I would hope. So, needless to say, I was very anxious to make his rice!
There were three sets of instructions: for a rice cooker, for the microwave and for a steamer. Since I have none of the three, I winged it a little and made it right on the stovetop in a pot. I soaked the rice for about 2 hours prior to cooking. I was worried that that wouldn't be enough time, but it ended up being perfectly fine.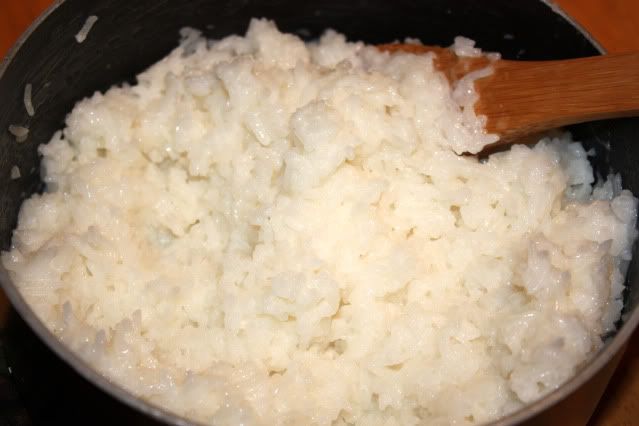 It came out wonderfully and the 4 of us liked it a lot, especially Holden ♥ It has a very mild sweet taste; Katherine said her husband likes to eat his with vanilla ice cream, and I can definitely see why. It added a nice little burst of sweetness to our dinner that night: lemon dill tilapia, New York deli-style rye bread and coconut sticky rice. The rice itself, a Thai jasmine rice, is a type that I have never had before, and found it to be something I really liked. I have to go find some locally because I can envision using that for almost everything rice related that I may want to cook. I will definitely be back to order some more – next time I think I might even try it with a little vanilla ice cream!