If you know me, you know that I am a HUGE chocaholic. Huge. And not just any chocolate - I am really picky and will only eat the darkest chocolate I can find. Has to be over 60%, preferably over 80%. So the other night, I was craving something good and chocolaty and was scouring my favorite recipe sites for *something* but just couldn't find anything that really appealed to me. So I improvised - just started throwing ingredients in the kitchen aid and hoped for the best! The result was dark chocolate truffle cookies with dark chocolate chips and sea salt. I think they need some homemade caramel next time too!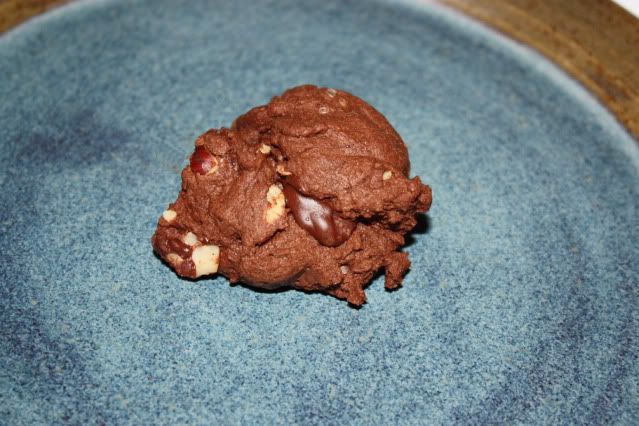 Ingredients:

1 stick butter softened
3 ounces cream cheese softened
1/2 cup sour cream
3T brown sugar
4T cocoa (no sugar added)
4 ounces dark chocolate, melted and cooled (I used 3 ounces of Lindt 85% and 1 ounce of Ghiradelli 60% because that was all we had in the house)
2 eggs
1 1/2 cups flour
1 1/2 - 2T sea salt (depending on your taste)
1/2 cup chopped hazelnuts
1/2 cup dark chocolate chips (I used Ghiradelli 60% dark chips because that was all I had)

Directions:

1. Cream butter, cream cheese and brown sugar.
2. Add cocoa and sour cream and mix well.
3. Add eggs, one at a time, mixing well after each addition.
4. Add flour and sea salt and mix well.
5. Add melted and cooled chocolate and mix until thoroughly combined.
6. Add the chocolate chips and hazelnuts and mix until incorporated.
7. Drop by rounded tablespoon fulls onto a greased cookie sheet and bake in a preheated 375 degree oven for 5-8 minutes. You want them very soft and truffle like, but cooked enough where they don't just fall right apart. Very scientific directions, I know :P
Let them cool a minute or two before you try to remove them from the cookie sheet because they will be very soft. These are one of the only cookies that I think taste better after they cool, so try not to eat too many while they are still warm! And you need a glass of milk or a cup of tea to enjoy these - they are very rich!

Next time, I will make up a batch of homemade sea salt caramel and drizzle it over the tops when they are cooled. Or perhaps I will make them as thumbrpint cookies and fill the indents with the caramel when they are cooled. Either way, they will have some caramel!

If you make these, let me know what you think!