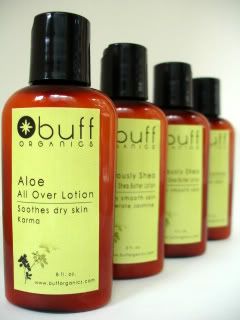 I was lucky enough to win a free for shipping lottery last week from Buff Organics for a 4 pack of their Aloe All Over Lotion. I am *really* picky about my lotions, and recently found out that my old favorite lotion's formula has been changed, so I was in the market for a new favorite. I was hoping this would be it.

The scents I received are yuzu (my absolute favorite scent), pink sugar, clean rain and lavender and vanilla. I am not a fan of the pink sugar, it is too sweet a smell for me, but the other three are fabulous! The lotion is nice and thick without being too heavy, moisturizing without being too greasy, strongly scented without being too overpowering ... in short, it may be my new favorite lotion! I have severely dry, itchy skin in the winter, and have been using this all week with great results.

The week before I won the lotion sampler pack, I won a soap and sugar scrub set from Buff as well - Christa sent them in yuzu (did I mention it was my favorite scent ever??) and those are fabulous as well. The sugar scrub is nice and scrubby and not oily/buttery/greasy, which I have found to be a problem with most of the scrubs I have tried. I haven't tried the soap yet, but my 9 year old opened it for her shower yesterday and said she loved it.