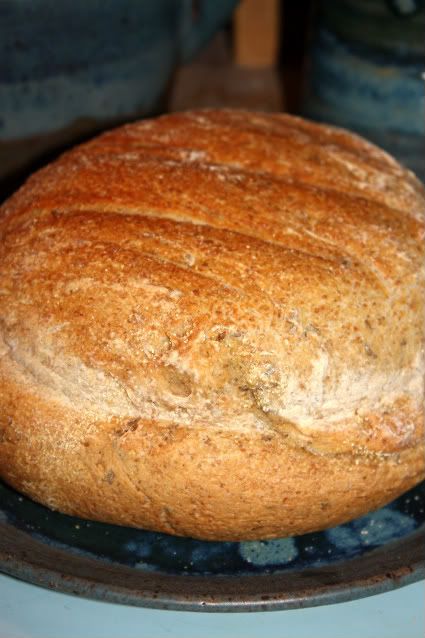 We are huge rye bread fans at our house. Our favorite comes from a farm about half an hour away - it is the one thing we will always come home with when we go visit. Or, it was. When I saw this recipe on Smitten Kitchen last week (one of my favorite food blogs), I knew I had to try it. The results? Fantastic! McKenna even told me it was better than the rye bread we pick up at the farm!

New York Deli Rye Bread
Adapted from The Bread Bible via Smitten Kitchen, cooking process adapted by me

Makes one 1 3/4-pound round loaf

Sponge
3/4 cup (4 ounces, 117 grams) bread flour
3/4 cup (3.3 ounces, 95 grams) rye flour
1/2 teaspoon (1.6 grams) instant yeast
1 tablespoon sugar
1/2 tablespoon (4.6 grams) malt powder (or barley malt syrup or honey (10.5 grams), or sugar (6.2 grams)) (I use honey)
1 1/2 cups (12.5 ounces, 354 grams) water, at room temperature

Flour Mixture
2 1/4 cups (12.5 ounces, 351 grams) bread flour
1/2 plus 1/8 teaspoon (2 grams) instant yeast
2 tablespoons (0.5 ounces, 14 grams) caraway seeds
1/2 tablespoon (0.3 ounces, 10.5 grams) coarse salt

Dough and Baking
1/2 tablespoon (0.25 ounces, 6.7 grams) vegetable oil
about 2 teaspoons (about 0.5 ounces, 16 grams) cornmeal for sprinkling

Make the sponge: Combine sponge ingredients in a large or mixer bowl and whisk until very smooth, to intentionally incorporate air — this will yield a thick batter. Set it aside.

Make the flour mixture and cover the sponge: In a separate large bowl, whisk together the flour mixture and gently scoop it over the sponge to cover it completely. Cover the bowl tightly with plastic wrap and allow it to ferment overnight (I generally let my bread dough sit anywhere from 10-18 hours, depending on how much time I have).

Add the oil and mix with dough hook (or by hand). Mix on medium speed for 10 minutes to make a smooth, elastic dough.

Place dough in an oiled bowl and sit in a warm place to rise again, 3-4 hours. The last 30-45 minutes the dough is rising, preheat your oven to 450 degrees, with the baking dish you are going to cook the bread in preheating in the oven as well. I use stoneware/pottery baking dishes - the baking dish needs to have a lid. Once final rise is finished, sprinkle the top of the dough with cornmeal, pull out your baking dish and quickly flip the dough into the heated dish (cornmeal side down), jiggling it to disperse it evenly in the dish. Quickly cover with lid and bake for 20 minutes. Remove lid, reduce heat to 400 degrees, and finish baking another 15-20 minutes until loaf is browned nicely.