Cheddar Stuffed Pretzels - way easier than you think!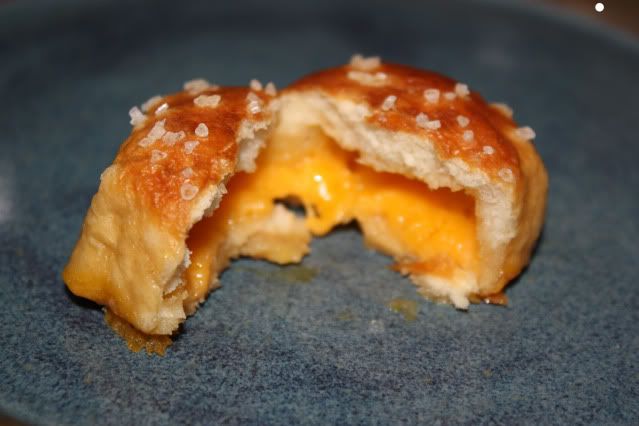 Sprinkle 1T yeast in 1/2c warm water. Let sit 5 minutes til frothy. Add 1/2c milk, 2T packed brown sugar, 2T butter (softened), 1/2t salt, 3 1/4c flour and mix to form dough ball. Knead 10 minutes til satiny/tacky (I stick it in the kitchen aid and go do something else)
Put dough in a greased bowl and let rise at least 1 hour, til doubled in size.
At this point, make your pretzels. You can make traditional pretzel shapes, pretzel sticks, etc. I always go for pretzel bites. Roll little balls of dough - super easy. Cut small blocks of cheese (I used seriously sharp cheddar; asiago is my personal favorite but we were out). Press your thumb in each dough ball and insert cheese. Cover cheese with dough.
Put on greased baking sheet and let sit 15 minutes.
Heat up water with about 1/4c baking soda. Dip pretzels for about a minute on each side and remove to the greased baking sheet. Be sure not to leave these in the baking soda bath too long or the cheese will start to melt. Brush with an egg wash and sprinkle on sea salt. Bake at 400 for about 12-15 minutes.