No ice cream maker needed!
Strawberry Lime Sorbet in Dark Chocolate Bowls (recipe adapted from Tasty Kitchen)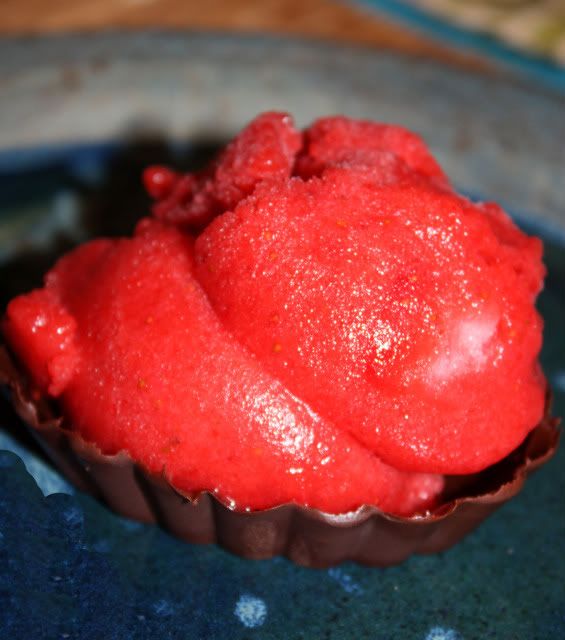 In a food processor, puree one 16 ounce bag of frozen strawberries (partially thawed) and 4T limeade concentrate. (Adjust the limeade to your taste - ours was TART!). Put in a container with lid and freeze for a few hours.
To make chocolate bowls, melt chocolate chips (I used semi-sweet - I would usually use dark, but because I used no sugar in the sorbet, I used semi-sweet to offset the tartness). Coat the bottom and sides of either a chocolate bowl mold or a paper cupcake liner (sprayed with cooking spray). Quick and easy way to do this is to pour melted chocolate in the molds/liners, let set for a couple of minutes on the counter, then pour out excess chocolate. Refrigerate to set.
To serve, unmold or remove paper from chocolate bowl and scoop in two scoops of sorbet.
Once the chocolate bowls were gone, I semi-defrosted the sorbet, added some semi-sweet chocolate chips, mixed and refroze.