If you like dark chocolate ... caramel ... or sweet and salty combinations, make these today. Right now. Go on ... I mean it!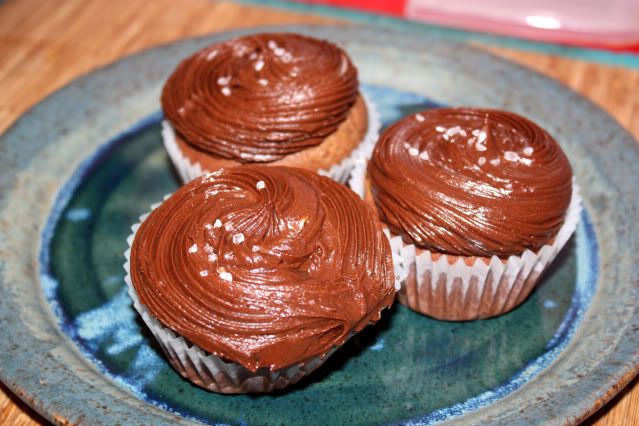 Chocolate cupcake recipe (cupcake and chocolate frosting recipes are from Tasty Kitchen)
Preheat oven to 400 F.
Cream 2 sticks butter and 1 1/4 c sugar. Add 2 eggs one at a time, mixing after each addition.
Dissolve 2t baking soda in 1 cup buttermilk. Alternate additions of flour (2 1/ cups) and buttermilk, beginning and ending with flour.
Add 2t vanilla. Melt the 2 ounces dark chocolate, cool and stir into the batter. Before you add the chocolate, eat some of the batter - it is the best batter I have ever had. I am a huge chocoholic, but I considered stopping before adding the chocolate and just making them this way. I have made then without the chocolate several times now as well, and they are to die for!
Pour into cupcake wrappers and bake at 400 F for 20 minutes. Makes about 2 dozen cupcakes
Chocolate buttercream frosting:
Cream 1 stick butter. Add 4 cups powdered sugar, 1/4t salt, 1t vanilla, 1 cup cocoa and about 1/2 cup milk. put in pastry bag fitted with a large star tip.
Caramel filling:
The original recipe I used called for a caramel sauce recipe which I made and hated and promptly threw away and made my own, lol. This is my favorite caramel recipe:
In a heavy saucepan, melt 2 sticks butter. Add 1 can sweetened condensed milk, 1 cup corn syrup, 4c + 4T dark brown sugar and mix thoroughly. Heat to boiling, then stir constantly, heating to soft ball stage. I heated this to just under so that it would not harden as much in the cupcakes.
Remove from heat and add 1T vanilla. Cool til you can handle it without getting burned, then fill a pastry bag with large tip with it.
Fill each cupcake with caramel by inserting the tip into the top of the cupcake and giving a generous squeeze. Frost cupcakes with chocolate buttercream. Garnish with a small sprinkle of sea salt on top.