It's no secret that I love bread. Love it. There are a lot of bread recipes on here if you go through the archives. And most of them start with the same recipe/method, the no-knead method. This bread is no exception, but the taste is absolutely exceptional! This is a great dinner bread, but I recently served it hollowed out with an herbed sour cream dip as an appetizer and it was phenomenal!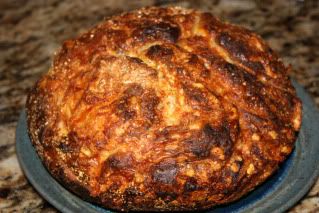 Rustic Herbed Cheese Bread

Ingredients:
3 cups flour
1 5/8 cups water
1 1/2 tablespoons oil
1 1/4 teaspoons salt
1/2 teaspoon yeast
Garlic powder
Sesame seeds
Onion powder
4 ounces sharpest provolone, shredded
Corn meal and additional flour for dusting/shaping


Mix all ingredients but cheese in a large bowl, just until combined. I didn't add the measurements for the spices because I don't measure. I like my breads strongly spiced, so I used approximately half of a small container of sesame seeds, and generous amounts (1 1/2 - 2 1/2 T) of garlic and onion powder.

There is no need to knead or over mix this dough. Simply combine the ingredients and that's it. Cover the bowl (this dough will double in size so make sure your bowl is big enough) and let sit overnight. I let mine sit for at least 12 hours, but have let it sit for 48 hours and the bread still comes out amazing.

After it has sat, place a dishtowel or paper towels in a warm place (I put mine on the stovetop with the oven on) and sprinkle generously with cornmeal. Using only enough flour so that the dough doesn't stick to your hands, ball the dough and place it on the prepared towels. Dust with more cornmeal or flour and cover with another cloth/paper towel. Let rise 1 - 3 more hours, until doubled again in size.

For the last half an hour, place a baking dish (it needs to have a cover) in the oven at 450 degrees to heat up. Turn dough out into the preheated baking dish, cover and bake for approximately 25 - 30 minutes. Remove cover and bake another 15 - 20 minutes until the bread is browned and sounds hollowed when you thump it.


Herbed Sour Cream Dip

Into 16 ounces of sour cream, mix 2T Healing Pixie's bread and cheese herb mix, 1T garlic powder, 1T onion powder and 1T garlic salt. Chill for at least an hour to allow hers to soften and flavors to meld.