Don't raid the kids Halloween candy - make your own! They are far better and you can control the sweetness!
Mommy's Dark Chocolate Peanut Butter Cups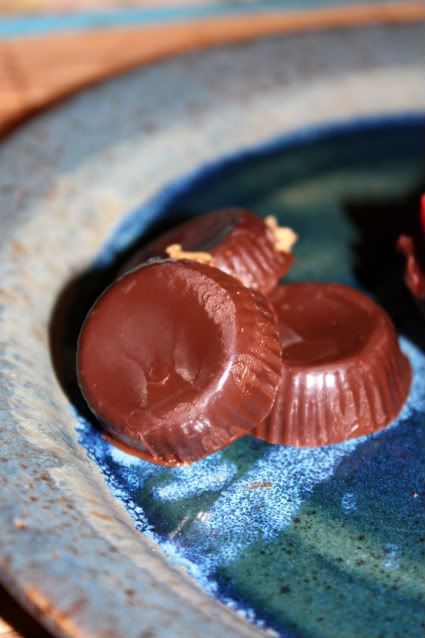 Melt dark chocolate (I use 85% dark or above, either Scharffenberger or Lindt) over a double boiler or similar (I use a small sauce pan of water with a pottery bowl placed in it, with the chocolate in the bowl), stirring until smooth. Use whatever chocolate you prefer - semisweet, milk, dark to whatever degree you prefer - semi sweet and milk will melt differently and you can do this directly in a saucepan on the stovetop over low-medium heat.
Mix 1/3 c natural peanut butter with a spoon until smooth. If you have a sweet tooth, add a little powdered sugar to the peanut butter, mixing til smooth and the desired sweetness/taste is achieved.
Spoon a small amount of into a mold. Add a small amount of peanut butter/powered sugar mixture. Top with another drop of chocolate. Tap molds on tabletop/counter top repeatedly to release air bubbles; refrigerate until firm. If you do not have chocolate molds, you can use mini paper cupcake liners, a mini cupcake tin (greased lightly with butter) or you can make large peanut butte cups in standard size cupcake tins/liners.
Dark chocolate versions need to be kept in the refrigerator as the dark chocolate softens quite a bit at room temperature. But these are much better than the sweet ones! Milk and semi-sweet cups are generally shelf stable for a few days (if they last that long!)